Powerology Smart Portable Fridge And Freezer Versatile Cooler For Outdoor Adventure With Detachable Wheels 45 Liters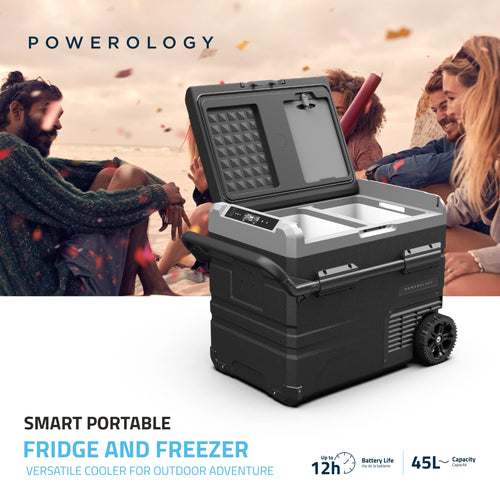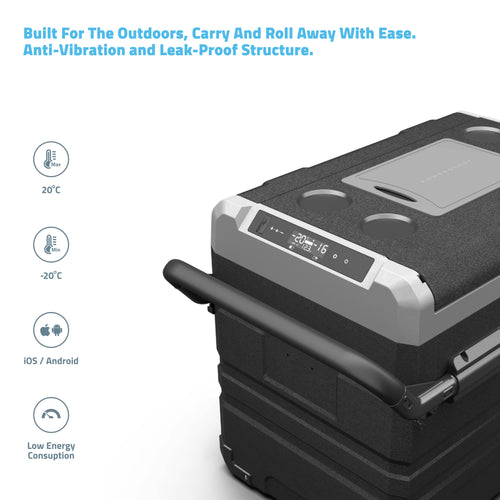 Chilled Foods, Thrilled Life
Powerology smart portable refrigerator is the unique combination of creativity and features to keep your foods and drinks frozen throughout your trips.
Powerology gives you an amazing experience in your camping by ensuring frozen and cold items without losing its real taste. Powerology multi-purpose portable fridge keeps everything fresh with you whether you are at home, in vehicles, or outdoors. Powerology smart portable refrigerator comes with the capacity of 45 Litres and a powerful lithium-ion battery which will help you to keep your stuff as fresh up to 12 hours on a single charge.
Powerology freezer has a dedicated app where you can control the refrigerator functioning and the application is compatible for both iOS and Android devices. The noise from the fridge is relatively at lower level which wouldn't be created any distractions for the customers from their regular routines.
Dedicated App & Smart Control
Powerology portable freezer has introduced a smart application to control the refrigerator. Using this smart app you can adjust the temperature of the fridge between -200 Celsius to +200 Celsius. The app is downloadable from the iOS app store and Android play store. Be smart Be fresh with Powerology.
tt's best compatible item for indoors and outdoors. Powerology camping refrigerator is exclusively designed for outdoor purposes. It's best and affordable refrigerating option for camping and trip enthusiasts. It's also best option cars with advanced anti-vibration and leak proofing features.
Tranquil Operation with Lower Energy Consumption
Powerology outdoor portable freezer spewing out a lower-level noise which wouldn't be a disturbance for your sleep or any other works. The noise level is as lower as less than 45 decibels so that you can sleep quietly, or your works may continue smoothly without worrying about the uncontrollable sound from the new product.
Powerology portable refrigerators have the feature of quick cooling through its versatile refrigeration range of -20 degree C to +200C. The smart features enable the fridge to save the maximum energy through adjusting the temperature as per the needs. With 15600
Compact and High Capacity
Powerology car fridge is designed in compact model and it can keep the items, including fruits, vegetables, meats, cool drinks and juices as fresh for a longer duration. This powerful camping fridge has a large capacity of 45 liters which will be the most convenient and high capacity in the portable segment. The adventure enthusiasts can utilize this small refrigerator to keep foods fresh during their trekking.
Powerology smart portable refrigerator can be used for refrigerating fruits, vegetables, cold drinks, cosmetics to keep it fresh for a longer time during your outdoor trips or during power cut times